Become a Vendor at our Festival!
Below are the application/contracts for food and merchandise vending.  Vending is on a first come first served basis solely at the discretion of the festival directors.  Please pay close attention to the requirements.
To reserve your area:
Please mail your completed contract
Appropriate site fee
Certificate of insurance
Temporary Food Service Permit for food vendors.  You must apply for this six weeks prior to the festival date.  I am sure you will agree with us that like any major festival, health and safety are our top priorities!  Thank you for your cooperation!
If you have any questions please email our Vendor Captain.
2023 PODUNK VENDORS
Please visit our vendors – they are an important part of the festival and pay a fee to be here. Support local!
Just a little time out of your festival schedule can make a difference. Vendors subject to change. Thank you!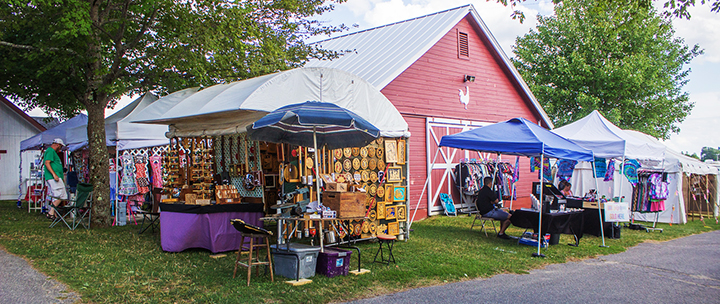 2023 CRAFT AND MERCHANDISE VENDORS
Ally's Earth Touch Massage: Massages by licensed therapists
The Dog Bone: All natural, grain free dog treats, paw wax, bug and allergy spray, custom t-shirts, hats and wood signs.
Earthwares: Cigar-box stringed instruments, scroll work saw carvings, earrings, shelves and photos.
Gerry Heinrich: Handmade mountain dulcimers
JNT Creations: Handcrafted jewelry, home decor, hair wraps by the inch, dream catchers, body care and wallhangings
Last Light Crochet: Market bags, gloves, ponytail hats, shawls, sewn skirts, tooth fairy pillows, aprons, bibs, hand warmers, wine bags and much more.
Leigh Farms: Local maple syrup, & honey. Locally made jams, jellies, photos and some local produce.
Lindsey Babon: Tye dye clothing and tapestries, hemp jewelry and sun-catchers
Native Crafts: Woven bags and sweaters, ponchos, children's bracelets and necklaces
Open Door Tea: Tea, tea ware, coffee wares, packaged honey, gifts, gift baskets & boxes
Our Creative Imagining: Face and body painting, festival glitter, painted and glitter tattoos.
Primitive Technologies: Wood fired pottery & masks, bark & gourd vessels, jewelry made from stone, bones, shell & feathers. Antique trading beads.
Pyrate Kydd Designs: Tote bags, wrist-lets, purses, zipper bags, dice bags & card holders
Silverdust Studios: Handcrafted soaps, bath products, candles, crayons and photos
Teresa's Little Girls' Dresses: Children's dresses and matching headbands and bow ties.
Sleeping Giant Hemp: Scarves/shawls, bracelets & chokers, beanies, belts, purses, small containers, bags, back-packs, wallets, hemp clothing, tees & pet accessories.

FOOD VENDORS
Full Bloom Catering: Hamburgers, hot dogs, pulled pork sandwich, grilled chicken sandwich, steak and cheese, fries, sausage peppers and onions, breakfast sandwiches, hashbrowns
Bongo Joes Java Hut: Coffee (Hot, iced and frozen), flavored coffee, iced and hot tea, hot chocolate, frozen chocolate, fruit smoothies, shaved ice, soft drinks, water, muffins and pastries.
Smash Brothers Concessions: Soft serve ice cream.
Sweet Chill Thai Cuisine: Pad Thai, noodles, Spring rolls, pot stickers, BBQ garlic chicken, fried rice. and bubble tea.
Sultan Kebab: Tacos, kebabs, quesadillas, salads, falafel, gyros

When Purchasing Food at Podunk you Need to go to the
Trading Post First and Exchange Your Money for Podunk Bucks
All food and drink must be purchased with PODUNK BUCKS
Exchange your cash at the Trading Post during the following hours:
Wednesday 2 pm – 7 pm
Thursday, Friday and Saturday 8 am – 11 pm
Sunday 8 am – 2 pm
Refunds will be made until Sunday at 2:00 pm
PODUNK BUCKS will also be available at Festival Headquarters if the Trading Post is closed.