2022 Telefunken-Podunk Band Competition
Our wonderful friends over at Telefunken host this amazing event.
The goal of the competition is to give bands looking to make the jump from a local or regional band to one of national recognition. It gives groups an opportunity to present to a wider audience and establish themselves as a band to be "watched and heard." We believe that the winning band will be able to use the title  "Winner of the Podunk Band Competition" as a marketing tool.
The judges will spend ten minutes with each band at the conclusion of the competition to discuss strengths, weaknesses, and areas needing improvement in a frank but supporting manner. We will accept only 4 bands to compete in the competition.  Bands will be given an opportunity to perform twice:  First as part of the competition, and then on the same day will have an open set of the band's choice.
For More Information Email Contest Coordinator Jim Perry – HERE
2022 Contestants Announced Soon. Stay Tuned!
Meet the 2021 Contestants
The Bad Oats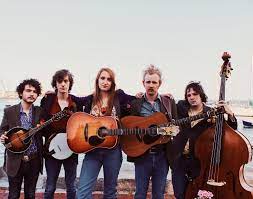 The 2021 Winners!
Bad Oats is a young string band that specializes in fresh and innovative arrangements of contemporary and classic material. Their repertoire includes music from a vast range of genres, covering artists all the way from Bill Monroe to Billy Joel, to Billie Elish, as well as a lovely catalog of original songs.
On The Trail
On The Trail is a modern acoustic quartet that explores everything from bluegrass to contemporary pop, from stunning instrumentals to beautiful traditional songs. The band bonded from their love of bluegrass and the band Punch Brothers, and has already gained recognition and praise for their exploration and strong execution of the challenging music, as well as for their new original music.
The Green Sisters
Hailing from a small farm in rural Massachusetts, the four Green Sisters were raised with music accompanying their chores. Their sound spans a wide range of bluegrass, barbershop, blues, country, and lots of original songs which fit right into the mix. They've been playing venues in New England regularly for the last several years and have garnered quite the following; it's hard not to smile when treated with their tight harmonies and high energy tunes. Their live show is where they really shine, bouncing their jovial banter around the stage as only siblings can. 
West King String Band
The band formed in 2013 in Saint Augustine, Florida, and is now based out of Nashville, Tennessee. Inspired by a large array of musical genres spanning from rock n' roll & classic country to traditional & modern bluegrass, they incorporate their influences to create an original, unique and diverse sound. West King String Band has spent the last four years traveling and performing more than 200 shows a year, embarking on expansive tours throughout the entire country and overseas. The band's high-energy live performance is sure to be a show you won't want to miss. You can expect to see these boys continuing to make waves across the country and beyond.
To find the winners from previous years – Click Here!