Saturday, August 13, 2022
Late night jam (11pm) at the Gazebo
with The Kody Norris Show
and The Bad Oats
Bring your instrument!
Dan Tyminski Band headlines tonight!
The music starts at 11:00 on the main stage and there is plenty to see and do on our other 2 stages and at the kid's activity center including a late night jam at the gazebo, workshops, dancing, yoga, guided jams, kid's movie and more!
Food vendors will be serving up their delicious fare and craft vendors will have their wares available for purchase.
C'mon down and help us celebrate our 25th year of bluegrass in CT.
Full festival tickets with or without camping, as well as day tickets are available at the gate.
Music starts at 11 AM
3 stages – family friendly – dogs welcome – food & merch vendors
Join us for Connecticut's premier bluegrass event.
Join us for our 25th Birthday Celebration!
Birthday cake will be served at the trading post at 5:50.
Weather: Wall-to-wall sun today with highs in the low 80s. It don't get no gooder than that. We've got great weather, great food, and Dan tonight. We even have birthday cake today. Curious about bluegrass? Today's the day to come. Already know bluegrass? Then you know today's the day. Bring a friend! Heck – bring your family! You can even bring your dog.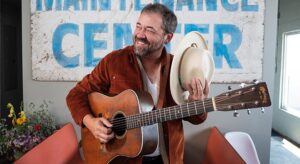 Dan Tyminski is a 14 time Grammy award winning artist. He is the voice of George Clooney in the hit movie O'Brother Where Art Thou and is a member of Alison Krauss and Union Station.
Catch him tonight at 9:30.
---
Also happening tonight:
5:50pm Birthday Cake at the Trading Post
6:45pm Stillhouse Junkies
7:45pm Sister Sadie
9:15pm 50/50 Drawing
9:30pm Dan Tyminski Band