Saturday, August 12, 2022
Late night jam (11pm) at the Gazebo
Bring your instrument!
Steep Canyon Rangers close us out tonight!
Wow … just wow.  The whole night's lineup is amazing.
The music starts at 11:00 on the main stage and there is plenty to see and do on our other 2 stages and at the kid's activity center including a late night jam at the gazebo, workshops, dancing, yoga, guided jams, kid's movie and more!
Food vendors will be serving up their delicious fare and craft vendors will have their wares available for purchase.
C'mon down and help us celebrate the best of bluegrass in CT.
Day tickets are available here or at the gate.
Music starts at 11 AM
3 stages – family friendly – food & merch vendors
Join us for Connecticut's premier bluegrass event.
Weather: Mostly sunny – almost 80. It don't get much gooder than that. We've got great weather, great food, and SCR tonight.
Curious about bluegrass?
Today's the day to come. Already know bluegrass? Then you KNOW today's the day. Bring a friend! Heck – bring your family! And definitely bring your instrument!
Day tickets are available here or at the gate.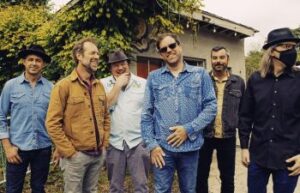 Heralds of the Carolina sound for more than two decades, Steep Canyon Rangers find themselves in a unique seat at the table for their new release, Morning Shift, due September 8, 2023. On this penultimate record, the GRAMMY-winners tell stories that both honor their roots, and expand upon the living art of bluegrass music, all while solidifying their reputation as some of the most influential songwriters in Americana today.
Catch them tonight at 9:30.
---
Also happening tonight:
6:40pm Danny Paisley & Southern Grass
7:35pm Henhouse Prowlers
8:30pm Authentic Unlimited
9:15pm 50/50 Drawing
9:30pm Steep Canyon Rangers