Presented by the Podunk Bluegrass Music Festival
The Annual Podunk Bluegrass Festival has announced its latest songwriting contest. Top three winners receive cash prizes and other amenities, including the opportunity to appear on stage during this year's festival.  Contest entry deadline is May 1.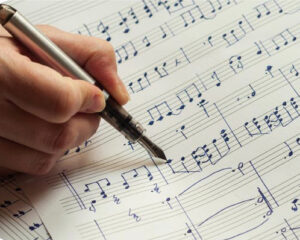 Some intangible perks for the 1st place winner include hearing the self-penned song performed by others. Each year, in addition to the songwriting contest, the festival also sponsors a band competition and these two events are somewhat entwined. Here's how.
The top four competing bands will each perform the winning song from last songwriting contest.  The winning song for this year's contest will be performed at next year's festival by the top four competing bands that year.
It's a special thrill for songwriters to hear their winning song arranged and performed by multiple bands in front of a large audience. Those performances are recorded and provided to the writer and to area radio stations to air on their shows. A special perk exists for those who don't attain 1st place. All semi-finalist songs are provided to each of Podunk's many Main Stage professional bands who may consider using those songs in their own future performances.
Podunk's competition goes through a two stage judging, first with a panel of professionals to determine the top five songs. They are then sent to three different judges for a blind listening and judging based on seven categories to determine the top three who will receive a chance to perform and receive cash prizes.
The festival has tied the Songwriters Competition in with its annual Band Competition sponsored by Telefunken Elektroakustik by requiring the bands competing to perform the previous year's winning song as part of their judged set. Last year's winning song Houses On The Farm, written by Nick Anderson will be presented on Thursday of this year's festival.  We are always excited to hear how bands interpret the winner's song in their style.
Entries must be postmarked by May 1.
To enter, submit the forms linked below along with $25.00 entry fee per song. If you are sending more than one entry, you may mail the materials together in a single package. You may also write just one check to cover multiple entry fees.
Podunk Bluegrass Songwriting Contest Rules, Entry Form and Release Form (PDF) HERE
Contest Deadline: Contestants must enter by May 1.
PRIZES:PRIZES:
First Prize $200, a premium ticket for 2 to next year's Podunk Bluegrass Festival, and a festival t-shirt.
Second Prize $100 and a pair of four day general Admission tickets to next year's Podunk Bluegrass Festival.
Third Prize $50 and a pair of general admission tickets good for any day of the festival to next year's Podunk Bluegrass Festival.
Last year's Winners – Click HERE