Camping will be located on site, with premium sites close to the main stage.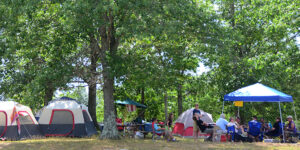 Our camping area is flat and easy to access. Camping spots are on a first-come first-served basis. The campground coordinator will reserve certain areas for camping in tents.
Standard camping ticket is from Thursday through Sunday (3 nights). Early arrival option is available for Wednesday.
Click here to purchase camping tickets online!
What you need to buy for camping tutorial.
Sample one – Full festival premium camping arriving on Thursday with 2 adults in the party.
Purchase two Premium Camping Full Festival Tickets.
Sample two – Full festival premium camping arriving on Wednesday with 2 adults, with full electric and water hookups.
Purchase two (2) Premium Camping Full Festival Tickets
Purchase one (1) Full Festival Electricity and Water
Sample three – Rough Camping with no hook-ups available from Wednesday to Sunday for two adults in the party.
Purchase two (2) Rough Camping Tickets
There will be no alcohol allowed in the concert area.
Looking for a list of things to bring? Check out Stephen Indelicato's list (adapted from Grey Fox).
Learn about everything our campground has to offer, and all the rules and services.
Camp Visitors
Visitors are allowed to enter campgrounds from 8:00 a.m. and may stay until 12:00 a.m. Anyone in the campgrounds after midnight will be asked to leave the grounds. Daily parking rates apply.
Camping in the grounds:
Register early to save on your ticket price.  We try to place those staying in tents near the tree line while the RVs are placed in the open areas of the grounds.
Our camping area is flat and easy to park on. We park our campers on a first-come-first served basis. This way we do not lose any valuable space by skipping areas. If you wish to camp next to another party, please arrive together.
What You get with a camping ticket (rough or premium) – Full Weekend Pass Thursday through Saturday that allows camping on the grounds and admission to all the festival activities and music.
This year there will be no daily gate camping – If you wish to camp on the grounds you must purchase a full 4 day pass with camping.
All advanced camping ticket includes 1 adult ticket to the festival and camping from Thursday to Sunday.
You may purchase electrical and water hook-ups for your site if you purchase a PREMIUM CAMPING TICKET at an additional fee. Premium sites will have a picnic table available if needed.
Permanent showers and bathrooms are located on the festival grounds for use free of charge. Port-A-Johns will be used to subsidize restrooms on the grounds. If you wish to empty any grey and black water before leaving the festival contact our camping captain for directions and fees to be paid directly to our Port-A-John Company  on Sunday for an additional fee.  Anyone found dumping on the grounds will be reported to the police department.
Check-in times
If you wish to camp starting Wednesday you may pay an additional $10.00 per person. We will allow campers beginning after 1 PM.
Campers may check in on Thursday from 8 AM until 8:30 PM, on Friday from 9 AM until 8:30 PM and Saturday morning from at 8:00 AM until 1:00 PM. Proper passes must be visible at all times. Lost passes will be replaced at the gate price. Please adhere to these times. Failure to check in during the appropriate time may require you to camp in a site for the evening until the next day at which time you will have to move.
Equipment
Camping equipment, including properly curtained station wagons and vans, are subject to the approval of the camping captain in charge.  All equipment must be removed from the campsite by 10:00 AM Monday.
Facilities
Permanent bathroom and showers on-site
Farmers Market
Saturday: 9:00 AM to 12:30 PM At Church of Hope of Hebron – Red Barn
1 Main Street Hebron, CT
Stroll this charming New England market every Saturday from June through October (rain or shine) located behind the Big Red Barn, shop the freshest quality produce for the pantry and handmade specialty products for yourself!
The Hebron Farmer's Market* will provide fresh grown vegetables, fruits, flowers, and herbs! Fresh baked goods, including breads, muffins, and cookies! Locally hand crafted items including jewelry and candles Local maple syrups, honey and jams will also be available! Farm raised chickens, eggs and game birds will also be on-site!
Facebook page: https://www.facebook.com/Hebron.Farmers.Market.CT
Turn right out the fairgrounds parking lot. Travel about 1.6 miles will be on left across from Town Hall building.
Grounds and buildings
Campsites are to be kept in a neat, clean and sanitary condition. Dishwashing is prohibited at water taps, in lavatories and showers. The injuring, removal or destruction of any animal or plant material is prohibited. Nails, knives, or other foreign objects may not be driven into trees or park structures nor may wire or rope be fastened to trees for any purpose.
The portable bathrooms will stay open throughout the festival. Please inform a staff member should the facilities need cleaning or supplies.
Fires and Cooking
Fires are permitted in designated fireplaces. Ground fires are strictly prohibited. The use of camp stoves or hibachi-style grills is encouraged. Please do not leave any fire unattended.
Ice
Ice will be available for purchase.
Motor Vehicles
One vehicle per campsite (with proper passes) is permitted. Vehicle passes are nontransferable. If you have more than one vehicle, you will be asked to park in the parking lot designated area. You will not be charged for parking in this area.
The speed limit within campgrounds is 10 miles per hour or less.
Pets
Pets are allowed in the camping area with up to date shot record. Pets must be on a leash, and pet owners must clean up after their pets.
If they are a service animal then they are welcome to join you, with proper authorization.
Pets are not allowed in the concert area. Sorry 🙁
Quiet hours
Quiet hours are observed between 11:30 PM and 7:00 AM in the QUIET CAMPING AREA. Generators may be run between 8:00 AM to 9:00 PM only. We allow picking throughout the campgrounds except in QUIET CAMPING AREA where the aforementioned hours are enforced. If you would like to camp in a quieter area, please inform our Campground Staff upon arrival so they can place you in an appropriate area. Reasonable levels of sound may not be exceeded at any time.
Shower facilities
Shower facilities will be provided.
Things to bring (adapted from Stephen Indelicato's Grey Fox list)
Tent or two, (you can never have too many)…. tents with big poles stand up to the wind better.
Sleeping bag or sheets or blankets or something to keep you warm/and or cold at night depending on the weather.
A pillow and an inflatable bed for sleeping comfort.
Your instruments…if you realize you forgot your instruments, turn around and go back home because you'll want it to make the weekend complete.
Instrument accessories. Things like picks, capos, straps, music stands, sheet music, words, chords, of course most of that stuff can be purchased at the vendor tables if necessary.
Food. There are always the food vendors. Cooking takes away from valuable picking and concert and workshop time so I recommend keeping it to a minimum.
Water. For drankin' and showerin' and washin'. Bring several filled plastic water jugs from home. They can be refilled from the trucks at the site. The Coleman 5 gallon square jug w/ tap works pretty decently.
Water bottles (for the concert site and walking around or whatever). Keep one on ice at all times.
Spray bottle…If its hot, nothing works better to cool you off than a spray in the face!
Chairs. Lots of chairs. You will need 1 chair for jammin' at the campsite. 1 chair for sittin' at the concert site. I also bring a Podunk Portable Pickin' Perch for the workshops to save your back.
A claw hammer…to stake-down a tent.
A bandana. They soak up sweat and can be kept moist for added evaporation and natural cooling.
Bug repellent. Bugs are not usually a problem since we spray the grounds before the event.
A small backpack or waist pack to carry money, picks, etc.
Money for the food vendors (Seafood, Hot Dogs, Pulled Pork, Burgers etc.) and lots of CDs to buy. Don't forget a marker for autographs for your CDs if you want. Also money for vendors who have trinkets for that special someone.
Your tickets to the festival.
A hat. One with a wide brim preferably.
Sunscreen
Sunglasses
Utensils for eating or cooking. I usually bring a stove and grill for heating water for coffee or tea or weisswurst or whatever. Bring all necessary pots, pans, knives, bottle opener, corkscrew etc.
Matches to light the stove (in a plastic bag of course).
Spices, salt, pepper if you plan to cook.
Toilet paper (sometimes its needed during the late hours).
Tarps for shade. I'll bring a couple…Tarps keep water and sun off of you. Survival necessities. Extra tent stakes, rope, bungee cords, carabeaners or whatever you got to lash things down.
Rain gear. Useful only if it's cold and pouring. For the most part….getting wet is OK. Truthfully, rain gear just would make you sweat anyway.
An extra pair of dry footwear.
Clothes. Shorts (bathing suits if you plan to swim or dance in the rain)…extra socks, shirts, long pants and a jacket or sweatshirt for evening. It gets cold at night so have sweats for the evening show.
Towels, washcloths, toiletries. Don't forget shampoo, soap and toothpaste.
Lanterns and/or a flashlight.
Your favorite CDs. Preferably bluegrass since it is a bluegrass show.
Tape recorder and mic for the show or jams. Bring lots of extra batteries and extra tapes.
Cellular phone to call home or for help.
Coolers for food or whatever. ice can be purchased on the grounds.
Golf Clubs – You can visit Long Hill country Club for a round if you must.
Deck of cards…Frisbees…reading material or other items to entertain…backgammon?
Tables for the camp. I bring a card table and a jammin' table.
clothespins – great for clipping towels, sun shades, etc up on the tarp.
beater rug(s) – it's nice to have a little area under the tarp that's not grass.
duct tape – need I say more?
spare car key
And anything else you can think of which will come in handy that hasn't been mentioned here (aspirin, over the counter pharmaceuticals, binoculars, camera, film, etc.
Trash and recycling
Please dispose of your trash in the appropriate cans around the grounds.
Help us to recycle by keeping glass and plastic separate. You may place glass bottles and cans in our RECYCLING CANS throughout the festival.
Weapons
Except as specifically authorized, no firearms, paint guns, archery equipment or other weapons may be possessed on any of the festival grounds or fairgrounds.
When it's all over
Please leave the grounds as you have found them. Do not empty gray water tanks on the grounds or in the sewer drains.
Camper "Pump Outs" are available from our port-a-john company for a $35.00 fee.  Flag down the driver on Sunday as he makes his rounds and pay him directly.