Aug 11-14 2022
Goshen Fairgrounds ~ Goshen CT
PODUNK VENDORS
Please visit our vendors – they are an important part of the festival and pay a fee to be here.
Just a little time out of your festival schedule can make a difference. Thank you.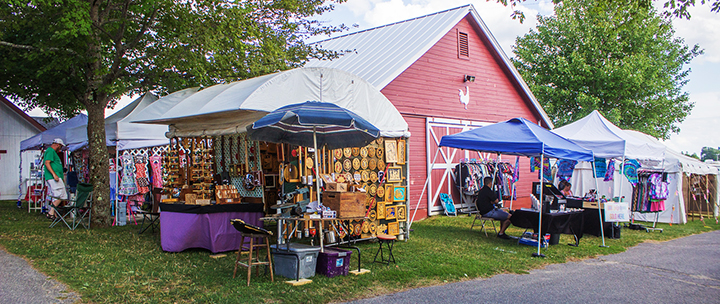 CRAFT AND MERCHANDISE VENDORS
Ally's Earth Touch Massage: Massages by licensed therapists
Belle Cose: Hand Crafted wind chimes, decorated plates, jewelry and headbands.
Casanova Remodeling Company: Roofing, siding, windows, gutters, insulation, painting. Home improvement services. Located in Plymouth CT
Earthwares: Cigar-box stringed instruments, scroll work saw carvings, earrings, shelves and photos.
JJ Pet Goodies: Cat and dog treats and cutting boards
Last Light Crochet: Market bags, gloves, ponytail hats, shawls, sewn skirts, tooth fairy pillows, aprons, bibs, hand warmers, wine bags and much more.
Leigh Farms: Local maple syrup, & honey. Locally made jams, jellies, photos and some local produce.
Lindsey Babon: Tie Dye clothing and tapestries, hemp jewelry and suncatchers.
Moosefrog-birdhouses: Handcrafted birdhouses & feeders, cat sleeping pads, wind chimes & spinners
Primitive Technologies: Wood fired pottery & masks, bark & gourd vessels, jewelry made from stone, bones, shell & feathers. Antique trading beads.
Pyrate Kydd Designs: Tote bags, wrist-lets, purses, zipper bags, dice bags & card holders
Silverdust Studios: Handcrafted soaps, bath products, candles, crayons, and photos.
Teresa's Little Girls' Dresses: Children's dresses and matching headbands and bow ties.
Typsy Gypsy: Handmade necklaces, wire wraps, earrings, bracelets & rings from re-purposed items. Crystals. Coasters, trays, key chains.
Pawsome Scents: Scents. Home fragrances, wax warmers, diffusers, pods and oils. Cleaning, pet & body care line. Children's products.
Warner's Best CBD: Various CBD products for humans & pets.
Woodbury Music Shop: Stringed instruments, strings, capos, straps, cables, picks & records.
Sleeping Giant Hemp: Scarves/shawls. Bracelets & chokers. Beanies, belts, purses, small containers, bags, back-packs, wallets, hemp clothing, tees & pet accessories.

FOOD VENDORS
Bloom Catering: Hamburgers, hot dogs, sandwiches, fries, chicken fingers, fried fish, macaroni salad, breakfast sandwiches, BBQ
Los Mariachi on Wheels: Tacos, burritos, tamales nachos, quesadillas, rice & beans, churros
Nino D's Coffee: Coffee, tea, chai, lattes, espresso. Cheesecake, brownies, toasted almond cake.
Smash Brothers Concessions: Soft serve ice cream.

When Purchasing Food at Podunk you Need to go to the
Trading Post First and Exchange Your Money for Podunk Bucks
All food and drink must be purchased with PODUNK BUCKS
Exchange your cash at the Trading Post during the following hours:
Wednesday 2 pm – 7 pm
Thursday, Friday and Saturday 8 am – 11 pms
Sunday- 8 am – 2 pm
Refunds will be made until Sunday at 2:00 pm.
PODUNK BUCKS will also be available at Festival Headquarters if the Trading Post is closed.
Become a Vendor at our Festival!
The Podunk Bluegrass Festival Committee invites you to join us as a vendor.  Below are the application/contracts for food and merchandise vending.  Vending is on a first come first served basis solely at the discretion of the festival directors.  Please pay close attention to the requirements.
Before submitting an application please read the Important Information and Requirements Pdf found HERE
To reserve your area:
Please mail your completed contract
Appropriate site fee.
Certificate of insurance.
Temporary Food Service Permit for food vendors.  You must apply for this six weeks prior to the festival date.  I am sure you will agree with us that like any major festival, health and safety are our top priorities!  Thank you for your cooperation!
If you have any questions please email our Vendor Captain.
Important Vendor Information and Requirements (all require Acrobat Reader):